Here are the events that led the gods to call back the old heroes of Camelot and to choose only 6 Heralds:
Balthazar, whose skin was usually of the reddest when at rest, could have created a new color had the curious wanderer witnessed the strange purpleness of his composure...
- WHAT?!?
He smashed one of the displayed marbled table populating the gathering room of the Gods with one of his fists. Dwayna intervened.
- Calm down, warrior. Temper your ire, it serves us not a bit. We shall sort that out in peace.
- HOW CAN I BE CALM ANGEL LADY!!!??? INTRIGUE AND BETRAYAL HAS FOUND ITS WAY INSIDE CAMELOT'S WALLS! WE RESURRECTED A FEW, AMONG WHICH ONLY ONE MANIFESTS ITSELF IN CAMELOT SO TO SPEAK...... AND NOW WE HAVE BLAISE AND TRISTAN ALIVE WITHOUT I BEING WARNED..... WHO DO YOU TWO-FACED GODS DO YOU THINK I AM TO BE FOOLED!!!!???
Another astral table perished in a blink...
- I have no idea as to why they, specifically, are alive either. Though i have answers for the rest of your questions, said dwayna.
- Huh?
Balthazar stopped his foot in mid-way from breaking another most-revered column.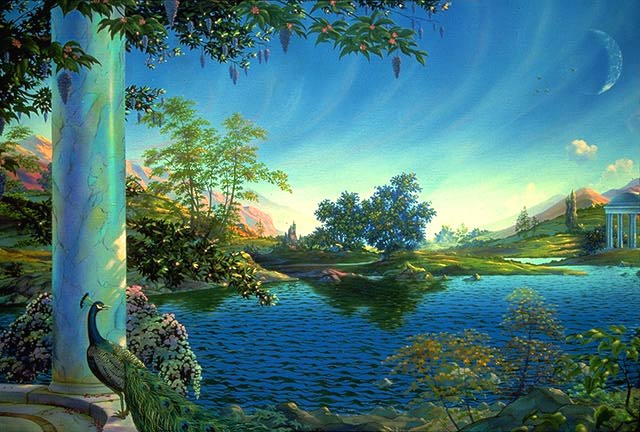 - If you wish to stop these fickle displays of physical tension, I may explain...
Balthazar stopped... Lyssa entered the main room, two illusionary private masseurs still in action, trying hard to make the twin-goddess' back to relax.
- Yes pray tell us Dwayna? said Lyssa. I have been much concerned about the present situation and could not find cosmic sleep these last days. oouch!!!
She slapped her illusionary masseurs away, the latter not seeming to be able to do their job properly...
- Yes pray tell us Dwayna? said Grenth who materialized himself from a nearby shade.
- Tell us? said Melandru, in the shape of a butterfly in the ceiling, having witnessed Balthazar's ire from the beginning.
Dwayna felt the pressure of these eyes on her and felt trapped.
- Well huh... hum...
She coughed...
- YES? ,said the 4 others in unison, raising brows. (At the time, Kormir had not yet made its way to the Equilibrium yet)
Dwayna scratched the back of her head in discomfort.
- Well... with the Equilibrium renewed and only Gereth having manifested himself so far, I believe I was slightly afraid that the balance might be too....
- In my favor?, said Balthazar, containing an evil grin. Everybody knew Gawain was once a Knight of the Round Table, and an excellent warrior.
- Nooo, not at all, just... unbalanced.... Well so to sum it up I decided to resurrect someone else without consulting you both and that was Tristan, said Dwayna, slightly embarrassed but standing her ground.
- Well... said Melandru... I have to confess that I had witnessed your "private choices" and could not let it happen. Your not the only one having acting on your own, cherished angelic friend. All of us have acted quite privately lately. I confess I resurrected Blaise.
- BLAISE ???, said Balthazar... turning towards Grenth.
- Yes I am aware of who Blaise is Belzeb... I mean... Balthazar... thank you..., said Grenth bitterly. He is that priest who managed to convince Merlin's mother that I was not the one who... you know.... engendered her...
- So? It seems that we have been fooled, Grenth, said Balthazar. FOOLED BY WOMEN!!!
- Careful how you call me, said Melandru, automatically.
Grenth coughed discreetly. Having no lungs left though, anyone could tell that something was wrong.
- Grenth?, gently inquired Balthazar.
- Well, when Blaise was resurrected I felt it straight away. His soul I tried to pervert in the old days, when I was after Merlin. After all, what a better person than he, the confessor of Merlin's mother. I assumed one of you did it.... obviously.... so i decided to counterattack.....

- Who?, said Dwayna, scared...
- Well? I think it was time to bring in Mordred's real mother..... Morgause.
- The propagator of Arthur's incestuous experience...?, said Lyssa.
- Herself, nodded Grenth, proudly smiling...
- THIS IS AN OUTRAGE!!! WHY AM I ALWAYS THE ONE WHO DOES NOT KNOW WHAT IS GOING ON AROUND HERE!!!!???
- Please stop screaming, said Lyssa, pumping on a pipe of opium. My head hurts.
The other 4 Gods tried to contain a laugh.
- Most dearly sorry... but I just adapt myself to your ways when I say..... I DO WHATERVER THE ....... (that word got magically censured by Dwayna) I WANT... And now, since I cannot trust you all as I should, let us carve on stone on oath of divine blood!
Balthazar showed a grin as all the other 4 Gods froze. Even Grenth turned more pallid. He still managed a few words....
- An oath of.....
- You are not serious! said Melandru. Especially for me, the neutral force. It is far too risky.
- Well, you better had thought of it before you all decided to do your scheming on my back. I am a God, we have an alliance, therefore it is my cosmic right to call for an oath of divine bound.
Balthazar picked up a large piece of marble stone from the remains of what used to be his table.
- And I shall carve the terms myself in the very fruit of my anger. Now, where to begin...?
The other gods gulped...
(To be continued)